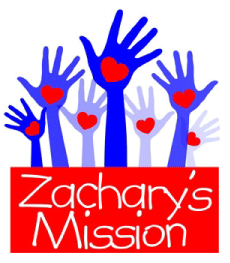 WELCOME
Zachary's Mission is committed to supporting families of critically ill children with their immediate needs. From supplying Zack Packs filled with toiletries to providing financial assistance, we are focused on, but not limited to, aiding families of children with a congenital heart defect or a heart transplant.
Based in the greater Pittsburgh area, we are providing assistance to those families in need right now and you can help too.
Read more about Zachary and how his legacy is spreading hope, one family at a time!
RECENT NEWS
We had a busy day dropping off requested items for families at The Children's Institute, West Penn NICU, The Children's Home and Lemieux Family Center and Children's Hospital. We also met with staff to ensure our services continue to benefit families.

You can feel the energy in the air as organizations, businesses, families and individuals donate gifts to help bring holiday cheer to so many families. We are happy to do our part. Thank you for your continued support of Zachary's Mission and to Erin Colvin and Children's Home Staff for the delicious cookies!

We are thrilled to announce that board member Jessica Cooper just had a baby girl!!!!! Charlotte Mary is 6 pounds 5 ounces, 19 inches and healthy! Congratulations to the Cooper family!
COMMENTS

August 2013
"I have a family that I have been working with here at Children's since the day I started in this unit. They are a very lovely family that is unfortunately in a very sad situation. This family was able to benefit from meal vouchers from Zachary's mission. The family is extremely grateful and wanted me to share their gratitude with you. The support that you provide through your gifts is appreciated and helpful in so many ways. Thank you."



July 2013
"We received a gas card from your foundation when our twins were in the NICU at West Penn. Just wanted to say Thank You!! You have a wonderful organization and I am in the process of trying to get a fundraiser setup at my work. I hope to get some funds over to you so you are able to help more families in their time of need! God Bless you all!"



February 2013
"I received one of the Zach packs from the social worker at childrens hospital. I am a mom of triplet girls and they have never been home. my life is the hospital.... I want to thank you for doing this awesome work on behalf of your son. It is people like you that make people like me smile and have hope and comfort. God Bless you."

Share YOUR story with us!